Motor Bike Expo od 13. do 16. siječnja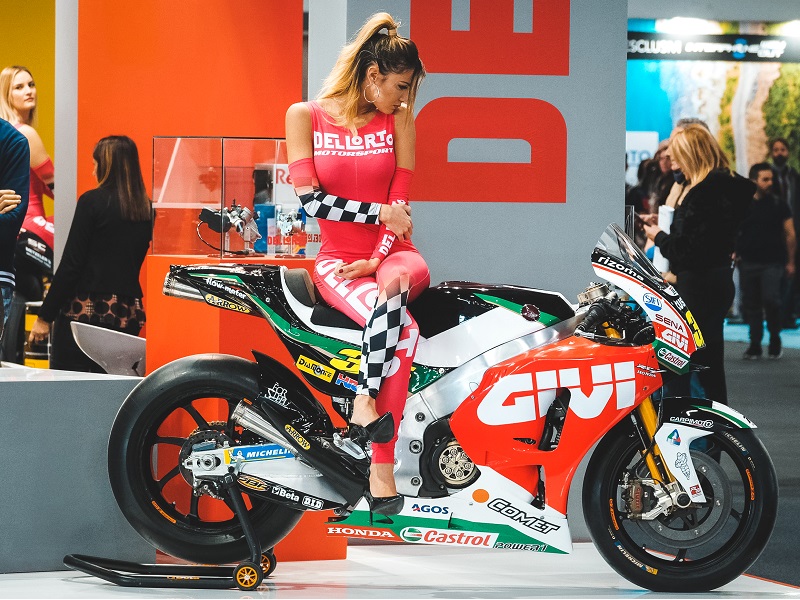 Svemu usprkos, ovogodišnji će se sajam u Veroni održati u svom standardnom terminu, i to u 8 paviljona.
Mjesto radnje Verona, odnosno Veronafiere, vrijeme radne uobičajeno, odnosno sredinom siječnja, konkretno od četvrtka 13. do nedjelje 16. siječnja. Radno vrijeme od 9 do 19 sati. I to su sve informacije koje su vam potrebne, ostalo već vjerojatno znate o ovom sajmu koji na jednom mjestu kombinira novitete za 2022., motosport te custom prerade i cijelu tu scenu. Ove godine je u igri 120.000 kvadratnih metara vanjskog i unutarnjeg prostora, s 8 zatvorenih paviljona i kakvih 600-tinjak izlagača.
U nastavku vam prenosimo službenu najavu predstojećeg sajma na engleskom jeziku.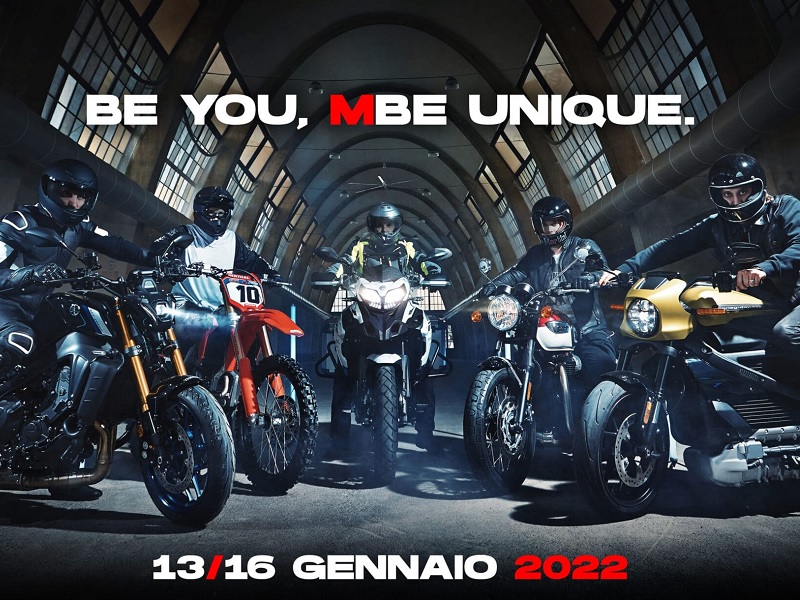 Motor Bike Expo is once again confirmed and returning to excite motorcycle enthusiasts for its usual four days at Veronafiere. From Thursday the 13th to Sunday the 16th, the motorcycling public can return to experience the most important event in the world where personalized motorcycles shine alongside series production models which will be nationally presented in Verona.
The Custom world acknowledges MBE once again as the most prestigious showcase for unveiling for the very first time the newest 2022 creations – there are already more than fifty never-before-seen custom bikes ready to be unveiled at Veronafiere.
8 pavilions open to the public with a total of 600 exhibitors and 120.000 smq of exhibition area.
International gusts: Toni Bou and American artists
One of the most eagerly awaited is without a doubt the thirty-time Trial World Champion Toni Bou, who on Saturday and Sunday will perform for the public at Motor Bike Expo a series of jumps, twists, and tricks which will leave everyone breathless. A unique occasion to see the all-time best rider in this specialty perform live.
Toni Bou's shows will take place inside pavilion 8.
Other international names present at MBE include American artists Ray Drea (Head of Design for Harley-Davidson from 2012 to 2019) and Darren McKeag; world famous photographer Michael Lichter, and the unstoppable Franco Picco returning from the Dakar.
BENELLI present at MBE with the entire 2022 line-up
To mark 110 years of Benelli, the Pesarese manufacturer will show all the new models in their new line at Motor Bike Expo, with headlights pointing at the eagerly anticipated TRK 800 adventure bike, which will stand beside the best-seller TRK 502 X. The other "cutting edge" of their display will be the 800, 800 Trail, and 125 versions of the iconic Leoncino.
All-new DUCATI models at MBE 2022
Motor Bike Expo 2022 will be the showcase for the latest releases from Ducati.
Enthusiasts can get an up-close look at the latest models such as the Desert X, Panigale V4 S, Streetfighter, and Multistrada.
The Custom world
Customizers are eager to meet with custom bike enthusiasts again at their showcase of excellence. The long weekend in Verona will be an opportunity to present as many as fifty innovative projects which will compete in their various stands and numerous contests. Carlo Colombo of Asso Special Bikes – with the presentation of five completely new customs as well as thirty motorcycles on display – confirms himself as one of the most long-lived and prolific customizers on the Italian custom bike scene.
Punto di Fuga, a multidisciplinary container linked to the passion for two wheels, will present in Verona a new sidecar: a "hybrid" project, built on Harley-Davidson mechanics with Indian bodywork and aesthetic references, which will certainly have everyone talking about it.
"This year I have abandoned the Old Shool lines that characterized my most famous creations," anticipates Matteo Fustinoni of Hazard. "I wanted to try my hand at more modern engineering, to confront myself with current technological solutions. I will be exhibiting three new customs: a powerful chopper called Chop Drag based on the Harley-Davidson Breakout, with innovative lines and exaggerated performance; then there will be a second custom based on the Breakout and then a completely revised Harley-Davidson XR1200 with superstructures made entirely from aluminum. You'll see, it will really be something innovative!"
New for 2022: the Custom District
For Custom fans, one of the most exciting new features of MBE 2022 will be the setup in Hall 1 of the Custom District. This is an area entirely dedicated to custom culture, characterized by the presence of particularly spectacular stands, artists, customizers and protagonists of the international scene.
Everything will revolve around the Simpson stage where special cars and hot rods will be on display.
A path that promises to be a space-time journey in the universe of custom art and culture. Thes new dedicated area will bring together the big names of the Italian and international scene in a never-before-seen setting with unique pieces that will amaze fans looking for truly special bikes. A constellation of customizers and artists who need no introduction, including Abnormal Cycles, Boccin Custom Cycles, Boman, Dox, Low Society, Morgese, Moto Marinelli, Niko Bikes, PDF, Radikal Chopper... The concept of customization will also be applied to four wheels with the presence of extraordinary hot and street rods.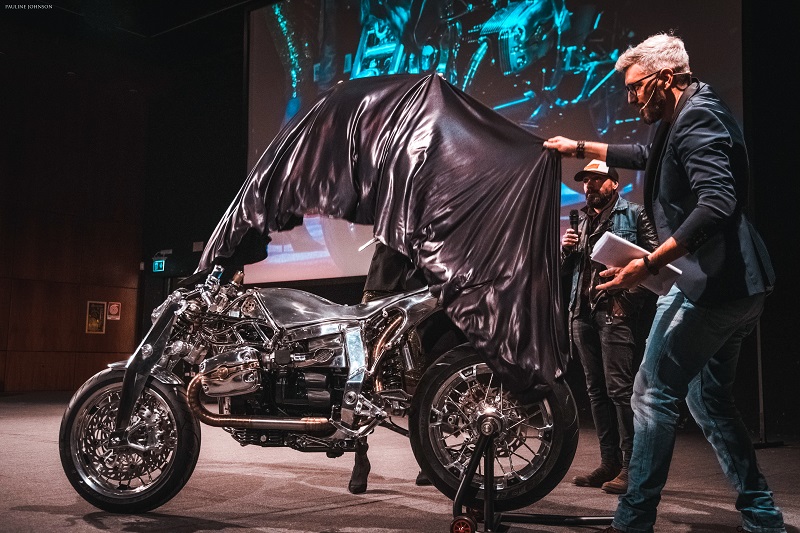 Hall 4: Motorcycles are a lifestyle
Each pavilion at VeronaFiere opens up a different horizon to motorcyclists visiting MBE. Hall 4 is traditionally dedicated to those who have made motorcycles their way of life. BMW Motorrad confirms Verona as the ideal showcase for their Heritage range. The stars will be the R18 cruiser and the R NineTs, previewed also in the versions customized by world-renowned top builders and personalized by with their line of accessories. "How did they imagine the motorcycle of the future in the Fifties?" is the question Radikal Chopper tries to answer, who, in collaboration with BMW Motorrad, will present in Verona a completely new reinterpretation of the cruiser of the moment. "I wanted to deviate completely from the interpretations so far produced by the international custom scene," anticipates the customizer Andrea Radaelli, who specifies: "my prototype will be a creation with unusual lines, it will look to the future with close attention to retro details that distinguishes the signature Radikal customs".
Enthusiasts will finally be able to admire the Ducati DesertX, one of the most eagerly awaited offroad novelties of 2022. The new V2 Panigale and Streetfighter will also shine in the spotlight on the Ducati stand, in addition to the display of the Panigale V4 and V4S and the Multistrada line. Royal Enfield continues to focus and win on the classic front: in Verona it will present the complete range of the twin-cylinder 650 Interceptor and Continental GT in addition to the new entry level Meteor and Classic 350 and the tried and tested Himalayan 410. For the event, Royal Enfield will display three specials built on the 350 platform, including bobbers and flat trackers.
Hall 4 will be enriched by the presence of big names such as Barracuda, Continental, Michelin, Pakelo, and many names in the motorcycle aftermarket. Among the customizers, the presence of Apache Custom Cycles, Boldi Special & Co, Motociclette Bottega Bastarda, MDMoto and Moto Sport Fratelli Ciot is confirmed. The magazine Special Cafe will hold the anticipated contest reserved for customs and cafe racers.
Hall 5: The Adventouring and Electric boom
This is where the panorama dedicated to the worlds of street, off-road and electric motorcycles opens up. The area dedicated to zero emission two-wheelers is particularly exciting thanks to the presence of emerging brands such as Cake, XEV Campello Motors, 2Electron and E-Move Zero. Motorcyclists will also be given a boost by the presence of the main players of adventouring, the discipline that combines Enduro and adventure motorcycling, to be experienced surrounded by nature. A trend that brings together many motorcyclists from different sectors, from tourism to off-road, from vintage to specialized workshops, with the addition of apparel and accessory brands. Among the brands in Hall 5, Olitema (MBE's Official Green Partner), Nolan X-Lite, Garmin, Alpa, Cellularline, and SST. The imposing hospitality of the FMI (Italian Motorcycle Federation) will be home for all enthusiasts. The impressive Enduro Republic bivouac is also waiting to be discovered; here the off-roader will be spoilt for choice, to enjoy a binge of dirt roads and drifts with the Di Traverso School, Ciro De Petri and the Swank Rally of Sardinia.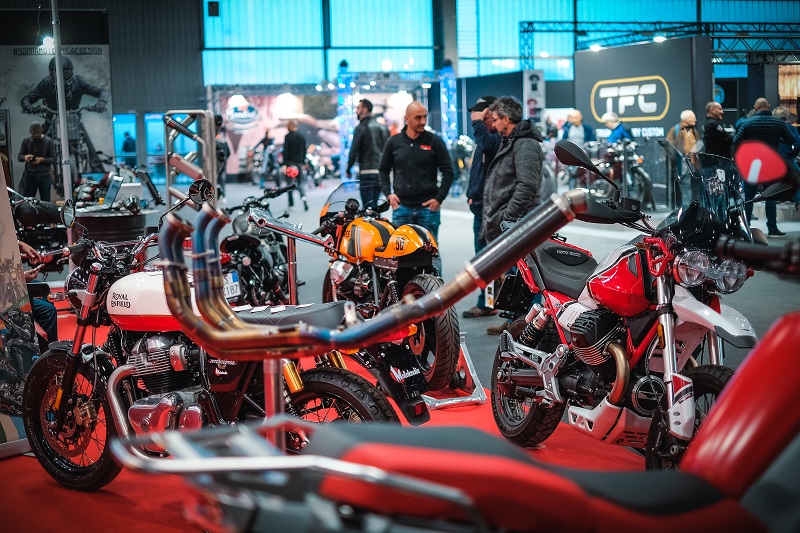 Hall 6: The Racing party is here
Speed, fun, performance: these are some of the dominant themes in Hall 6, where Yamaha, Benelli, Ohvale, Motul and Primatex with the Virus Power brand will be the stars. The racing world is represented by a series of brands of accessories, clothing (Arai, Dainese, GiMoto, Mosko Moto, Tucano Urbano, Vircos, Wheelup), special parts (Evotech, Liqui Moly, MSR Exhaust, Simoni Racing, Spider) and organizers of track and offroad events (Ag Motorsport, Cremona Circuit). All eyes are on Tamburini Corse, the hypersport motorcycle company founded by Andrea Tamburini, son of Massimo, the designer of the Bimota and MV F4.
Safety, non-profits, and every kind of shopping
The desire to get away and enjoy the attention to safety, the world of associations, presentations and a bit of healthy shopping: there are many reasons to stop by Hall 7, among the areas for track, off-road, touring and second-hand bikes set up around the Meeting Point: a space dedicated to meetings, presentations and in-depth analysis. There are also clubs, associations and organizers of motorcycle-centric initiatives.
Motor Bike Expo
Event confirmed from January 13th to 16th, 2022
(open hours for the public 9:00 – 19.00) at Veronafiere
Facebook: www.facebook.com/MotorBikeExpoOfficial
Instagram: www.instagram.com/motorbikeexpo/
Youtube: https://www.youtube.com/user/motorbikeexpo
Motorcycle rental:
rentamotorcycle.motopuls.com